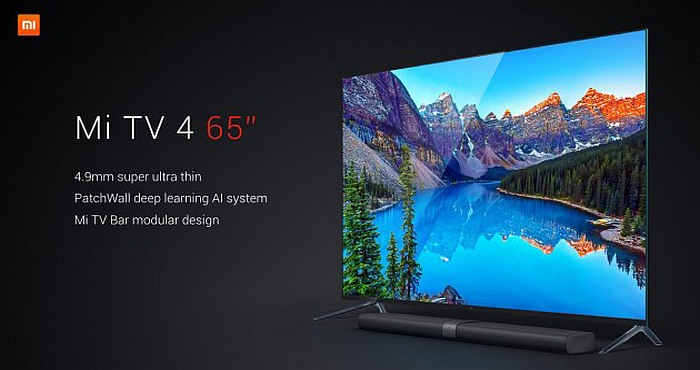 Together with the router the company introduced its update of the line of smart TVs Mi TV. The main feature of Xiaomi Mi TV 4 is the extremely small thickness of the device (4.9 mm) and frameworks around it. The small thickness has been achieved due to the fact that all the "filling" of TVs was moved to a separate soundbar, which is already connected to the Mi TV 4.
It is simultaneously the "tee" for all connectors and the basis for the TV hardware. And, of course, due to ten built-in speakers it provides the user with a high-quality sound.
TV will run by Android together with a user interface PatchWall. As a complement to the TV, Xiaomi offers to purchase an acoustic system for $ 500, consisting of two speakers and a subwoofer, in order to turn it into a full-fledged home cinema.
TV will be sold complete with a soundbar and customers are offered to select one of three diagonals of 49, 55 and 65 inches. The cost of low-end model is not precisely known yet, but the middle and the older will be sold for $ 1500 and $ 2000 respectively.