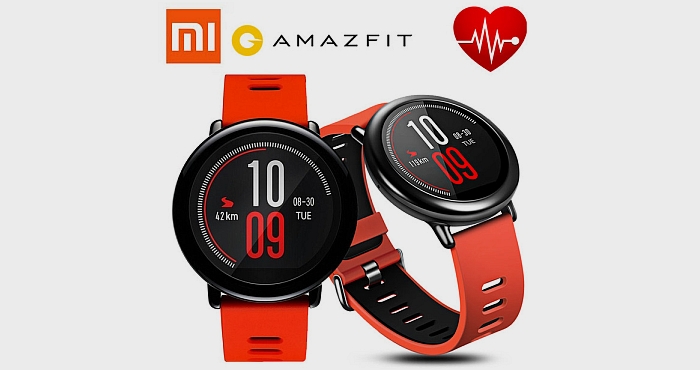 Smartwatches have existed in some form or the other since the 1980s but it is lately that they have taken the market by storm. With big players like Apple and Samsung in the market, the hi-tech smartwatches are something to really look out for. Recently there has been a new entrant in the marketplace – Xiaomi, the Chinese manufacturer. Although their exact move to enter this marketplace is not clear, it appears that they want to bring a breakthrough in the overpriced market. The Xiaomi smartwatches are a good alternative to Samsung Gear S2 and they cost reasonably less.
We love the unique design of Xiaomi Amazfit that features a round touchscreen. There are no sharp edges and the bezels are scratch-resistant as they are made from zirconia cement. We like the 1.34 inch display that boasts a resolution of 300×300 pixels. The display looks pretty sharp and the colors produced are vivid. You can see the display under any lighting conditions.
The smartwatch is powered by a 1.2GHz dual-core processor and we love the internal storage capacity of 512MB RAM and 4GB. There's no separate charging port for this device and the smartwatch can be easily charged using a magnetic charging unit. This helps in freeing up space for more useful features.
There's a small button on the side of the device which needs to be pressed to wake it up. The button is too small and makes it difficult to press. Furthermore, it doesn't work with just one press and needs to be pressed repeatedly.
The watch comes with two colored wrist bands so that you can swap them whenever you want. The wristbands are durable and sweat resistant. You can see an 'optical heart rate sensor' at the rear end just like in the Mi Band 2. The watch uses a PPG sensor installed at the backend to monitor the heartbeat rate. These sensors are amazing and they work as good as those in the Apple Watch. Xiaomi has put forth some really great algorithm to enable perfect recordings.
Xiaomi Amazfit is pretty simple to set up and use. You simply need to download an application known as Amazfit Pace on the Android phone. Now you need to sign in using your account and configure your details. The user interface is straightforward and friendly.
The Xiaomi Amazfit is pre-installed with an app called the Mi Fit that can be used to easily connect to android smartphone. The 200 mAh battery promises to sail through 5 days in a cruise ship and offer 35 hours in a GPS mode.